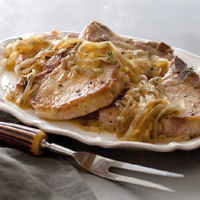 Ingredients:
• 2 tenderloins of pork (1-1.5 lbs each)
• 1 bottle Stonewall Kitchen Vidalia Onion Fig Sauce, reserve 1/4 cup for sauce
• 1 cup white wine
• 1 lb fresh or dried figs, cut into quarters
• 2 large white onions chopped
• Olive oil
• Salt and pepper
Directions:
Mix wine and Vidalia Onion Fig Sauce together (reserving 1/4 of Fig sauce). Pour onto pork and marinate overnight. Preheat oven to 375 degrees F. Roast pork in oven, 40-60 minutes, until internal temperature of pork reaches 160 degrees. Sauce: Saute onions in a little oil on low heat until lightly browned. Add chicken stock and reserved Vidalia Onion Fig Sauce until onions are soft and sauce is slightly thickened. Then add figs and cook until heated through. Slice the pork into medallions. Top with the warm sauce and garnish.